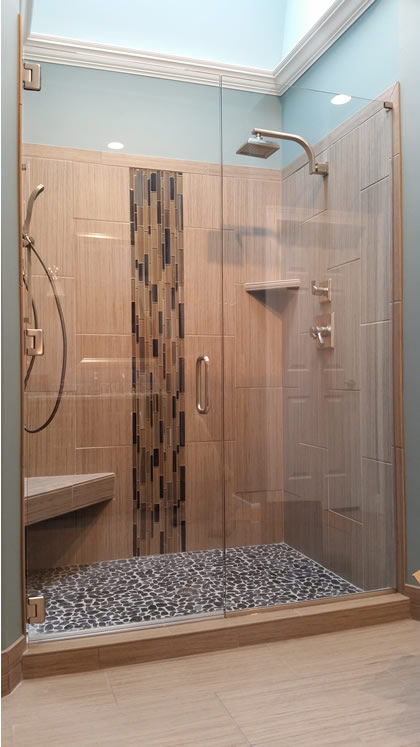 Doc's Glass designs and installs high quality shower enclosures, custom fit to your shower or tub. No matter the design, framed or frameless, we provide only the very best in products and service. Our professional sales team and installers work with Homeowners, Builders, Designers, Architects and Remodelers throughout the Nashville/Middle TN area. Whatever your project, we're focused on providing high quality, custom shower glass at a competitive price with quick and courteous installation. Whether you have recently renovated your shower area or would simply like to replace that old shower door, we're ready to help.
3 Core Types of Glass Shower Doors
Framed
Semi-Frameless
Frameless
Framed Glass Shower Doors
A budget-friendly alternative to frameless glass showers, framed shower doors and panels can be substituted into any design and shower opening — from a single, swing door replacement to a multi-panel shower enclosure.
Framed shower doors can be further customized through choices of glass styles and hardware finish color.
Semi-Frameless Glass Shower Doors
If you want the appearance of a frameless shower enclosure, but have budget or design constraints, Semi-Frameless shower doors are the best alternative. Semi-Frameless shower doors are the more traditional style seen in home showers today. Unlike the frameless style enclosures, these have an aluminum frame around the opening which provides additional support and prevents water from leaking through.
Frameless Shower Glass Doors
Outside of the visual appeal of a frameless glass shower door, there are several benefits to consider when making a purchase. Frameless shower doors can be easier to maintain since the glass makes direct contact with your tile and eliminates corrosion that builds up on the metal track of it's framed counterpart. Additionally, all of that vertical metal can really detract from your beautiful tile work you want to show off. Properly installed frameless applications are more rigid with the addition of heavier, thicker glass and heavy-duty hardware. That same hardware allows the door to open to the inside as well as the outside swing you'll find on a framed shower door. Most homeowners see a better return on their investment since the frameless system is much more desirable to new homebuyers. Lastly, a frameless shower door allows for much more creative flexibility when matching your plumbing fixtures, choosing a specific height or coordinating a particular style to your bathroom project.
Can you provide the glass and I install my frameless glass shower door myself?
Installing a frameless shower is not recommended as a DIY project because frameless glass shower installation is a fine art with extremely small tolerances to provide a leak proof glass shower enclosure. The slightest error could result in gummy caulking, ugly gaskets, or worse – a glass enclosure that leaks all over your bathroom floor. To get it perfect, installation needs to be exact. Also, the slightest chip in the safety glass can cause it to shatter, leaving you with a very expensive mess to clean. This is one project you will want to call in a professional glass installer.